Visit Us to Make Your Dream Dress a Reality
Wedding Day Dressing Service
Take the stress out of your wedding day with one of our Dressing Day Service packages. We hear from past brides and their vendors that they were so glad to have an extra set of hands on-site to make sure everything looked perfect!

One of our expert bridal stylists will be on-site at your venue to act as your personal assistant on the biggest day of your life.

See some of our service offerings below!

Wedding Dress Stylist

Gown Advocate

Bridal Emergency Kit

Last Minute Alterations
Have a Stress-Free Big Day
Services Offered:
Starting at $159
Time Ranges: 3-8 hours

Package includes:
One Dressing Day Service expert
Delivery of your dress and accessories to your venue up to 25 miles from the shop included. Additional charges may be applied for further destinations.
Final steaming and check of your dress for a flawless look
Assisting the bride with dressing into the dress
Assist the photographer to showcase your dress perfectly
Assistance with teaching your crew how to bustle your dress for after the ceremony - depending on the package, we can bustle for you.
Last-minute emergency alterations
After ceremony veil removal
Complimentary bridal emergency kit and a special gift from D2AT
Addition of steaming and dressing assistance for the entire bridal party including MOB/MOG, groomsmen, bridesmaids, and flower girls.
Addition of having our stylists handle the bustling of your dress after the ceremony, assistance up to dinner, and generally an extra set of hands during your wedding so your guests can sit back and enjoy themselves.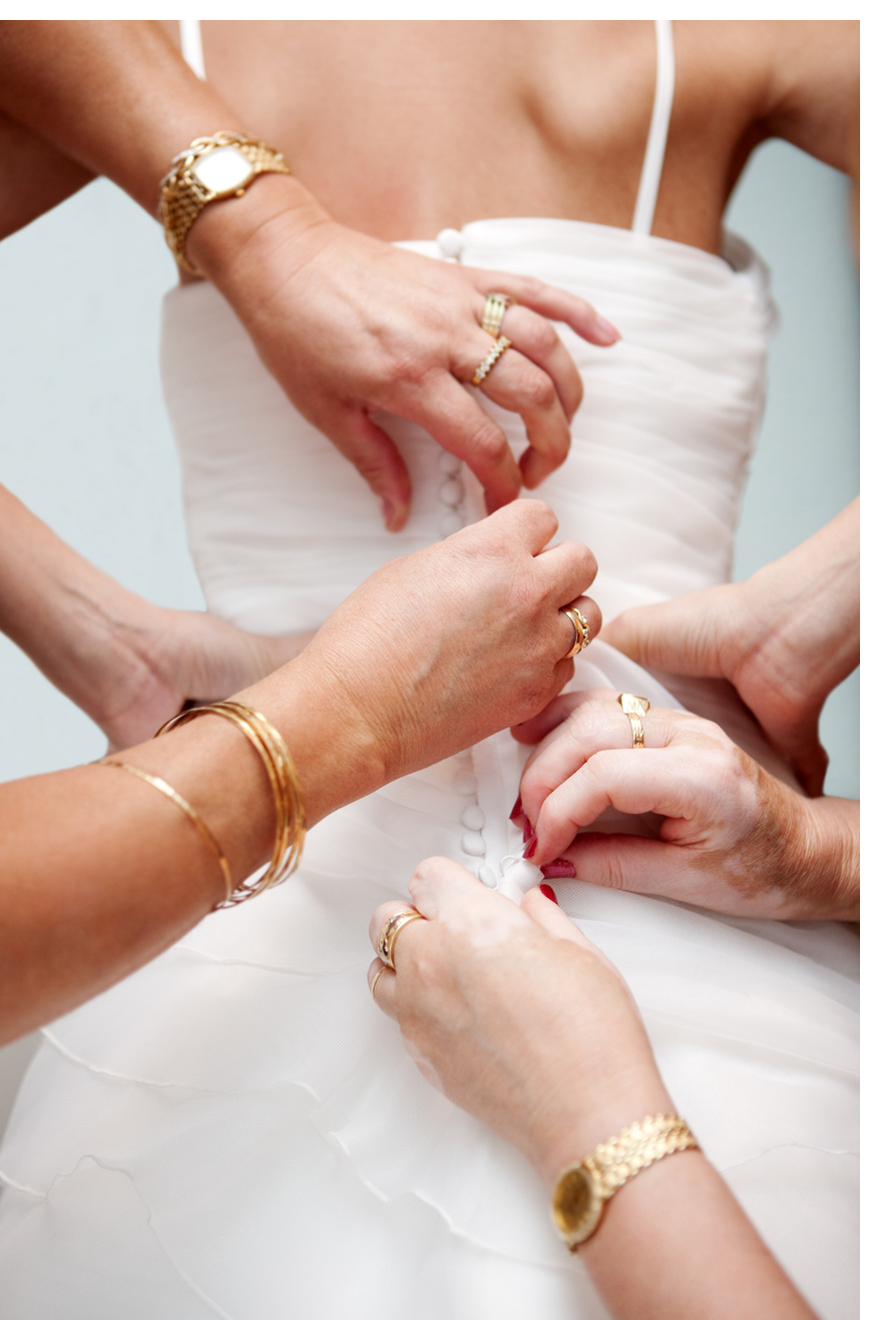 How We'll Compliment Your Wedding Day Team
Photographer


We allow your photographer to concentrate on what they do best: capturing day's perfect moments.

We will take care of ensuring your gown and the outfits of your guests look amazing for every photo.
Close VIP guests including Mom and bridesmaids:
Let your mom welcome guests and enjoy herself on your big day. Free up your other VIP guests' time. They have many other responsibilities for the day.
Wedding Planner / Coordinator / Stylist:
Your wedding planner is there to execute your vision for the day and keep everyone on the timeline.

They won't be able to dedicate their time to making sure YOU look perfect the whole day. Our stylists are there to focus on you and your needs.
Venue Coordinator
The venue coordinator is there to make sure that your party goes off without a hitch when it comes to the space.

They are not available for you and your bridal party.
No Planner or Coordinator:
We can be that extra set of hands throughout the day so that you can let go of the details, relax and enjoy your day.
Ready for a Stress-Free Dressing Experience?
Book Your Wedding Day Dressing Service
We are so excited to service the Grandville area with this unique offering that will make your special day go by so much smoother.

Dressed to a T, can also supplement any of our Dressing Day Service packages with these add on services:
Charcuterie board / catered lunch or breakfast
Beverages
Getting ready robes